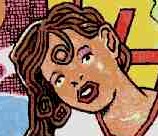 The Going Away Party That I Got To Go To!
From:
Cameron
Ah, sweet seventeen, and with fascist parents. The last time they caught me doing anything bad was when I was fourteen. They caught me smoking. I'm still not allowed out after dark unless it pertains to work or school.
I had just met a guy named Frank who was four years older and lived in my town, but he was moving about ten miles away that coming Friday, and was throwing a going-away party. I hadn't been to a good party in ages (due to both parental restriction and my own unpopularity), so I was determined to attend this soiree.
But how? Suddenly it hit me: there was going to be a free dance at school that night, and you got a souvenir t-shirt just for showing up. So I went, snagged my shirt, then went to the party, got really drunk, and drove home without incident. Since I can hold my liquor pretty well, my intoxication went unnoticed, and I most likely reeked of pot and cigarettes, but that went unnoticed as well. And to this day they suspect nothing!