---
'Tis the season to be jolly. Tra-la-la-la and so on. Christmas is the western world's most commercialized time of the year. It's a season of giving and receiving, of family reunions, of unadulterated lying.
Bah humbug! That is what I say in December and don't I get told off for it. Scrooge without any ghosts bothering me at all, bring them on I say. It is ironic that Christmas is the time of the year that has the highest suicide rate. It is the time when we lie to each other the most!
The lies start small, white lies. "I'm just going out to get a newspaper." When in fact you are going out to buy a present.
Then they get bigger. "Yes Tommy, Santa is real, if you are really good you may get what you want this year." Then the lies are used as threats and bribes. "That's it young man, one more word out of you and I'm calling Santa, just eat your veggies and I will put in a good word for you."
How do you explain to a child that Santa is not real? Well you don't. It's like fairies and elves, and God and angels, just because we don't have proof they exist doesn't mean we can't have faith in them. It isn't wrong to tell a child that Santa Claus is real, if you believe that to be a fact yourself. But if you don't believe in Santa, using him as a good excuse for your kids to eat their food is a deception. Just because everybody else is telling their kids the same lie, doesn't make it right.
Then the lies begin to arrive from all sides, before you know it reality has ceased to exist. I will give an example of the lies in a dialogue form. Just for the heck of it, I will give you the lie first followed by the truth in italics.
HUMBERTO
"Grandma, the turkey is just great."
This thing is as tough as boot leather.
GRANDMOTHER
"It's a special recipe I got from my
grandmother, here have some more."

Ramon delivered it from the
take-away shop, they're going to eat
everything at this rate, and I was hoping
to have some leftovers for the dogs
HUMBERTO
"How is uncle Irving? Haven't seen him in a while."

Better seem interested or she'll cut me out of the will.
GRANDMOTHER
"Oh he's fine, off to Florida again,
I'll tell him you asked about him."

That weirdo is back in jail again.
They haven't proved anything
but I'm sure he's involved with
those kids going missing.
HUMBERTO
"I noticed your garden is looking great this year."

This house will be worth a bundle once she's gone.
GRANDMOTHER
"Uncle Irving did some work in the
flower beds dear, he is so handy in the garden."

I'm sure there are a couple of bodies
under the roses, but I'm not having
the police digging up my yard,
I could win a blue ribbon this year.
HUMBERTO
"This tie is beautiful grandma, thank you so much."

You old hag, where do you find this crap?
GRANDMOTHER
"It suits you my dear, I hope you
get a lot of use out of it."

You dress like a clown, good
clothes would be wasted on you.
HUMBERTO
"What do you think of the silverware grandma?"

I hate having to waste good money on you.
GRANDMOTHER
"I think is so lovely, I will put it with
the good china you gave me last
year. You shouldn't have bothered."

I should be able to pawn this stuff
for a bit more than that lousy tea set
you gave me. I wish you'd give me
the cash instead, save me the trip.
All right, so not everybody's family is this quirky. Nobody can deny that you do tell a few lies at Christmas. You don't want to hurt someone's feelings so you say you like their present, or you try and be really friendly with that cousin you hate.
No matter how you look at it, you aren't actually being honest a lot of the time in December. Remember, if you aren't being honest, you are lying.
HUMBERTO
"Gran, can I have another serving?"

With any luck she'll die in the next few months.
GRANDMOTHER
"Of course dear, how about some potatoes too?"

Little leach. I'm leaving all my money to Ramon,
the delivery boy. He knows how to satisfy me.

-- Humberto Manzo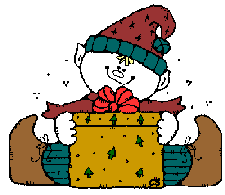 This one almost--not quite!--makes me nostalgic:

When I was little, Christmas Eve was always celebrated at my paternal grandparents' farm. Dinner, Christmas carols--never mind, cut to the good stuff, was my attitude! Who can eat--or sing--when waiting for Santa to arrive and leave behind the you-know-whats? Especially the nice you-know-whats he always seemed to leave at my Omi and Opa's.

Nevertheless, I always managed to choke down the overcooked turkey, crusty buns and herring salad (it's a German tradition, at least in my dad's side of the family--don't ask), and sing "Silent Night" and "O Christmas Tree" in English and German with the patience of a little Spartan.

And then--I held my breath--yes, there it was. The twinkly sound of jingle bells, and a muffled but hearty "Ho, ho, ho!" from behind the door of the one room where we were not allowed, because that's where Santa was supposed to pop in. (Don't ask me how. I don't recall there EVER being a chimney there, at least not one that would fit!)

It struck me as faintly odd that there was no sound of tiny hooves prancing and pawing on the roof, as they ought to, but I thought maybe they were on the lawn instead. I'd crane my neck at the window in vain to see the reindeer, but no luck.

Well, sometime around the ripe old age of nine it began to dawn on me that the jingle bells sounded an awful lot like those conveniently located on a red vinyl ribbon on the wall in the "present room". And that the "Ho, ho, ho", muffled as it was, sounded an AWFUL lot like my uncle Alois, who was always conveniently out of sight when Santa was supposedly putting in his, um, appearance....

-- 'Bina.

For years, every Christmas we'd be shopping in stores and I'd ask Mom how 'come there were so many Santa Clauses hanging around everywhere. "Oh, those are all his helpers," she'd always say. "He sends them down because the real Santa Clause is busy up in the North Pole getting ready for Christmas."-- Duane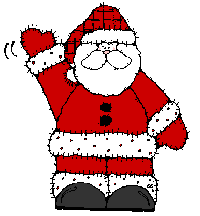 When I was little, I knew, as every child knew, that Santa comes down the chimney on Christmas eve to eat the cookies and milk I left for him and to bring me lots of cool toys! Well, there was one problem - we didn't have a chimney. So, very concerned, I asked my dad how Santa would get into our house. Genius that he is, he explains to me that Santa shrinks himself and comes in magically through the radiator. I'm aware this is a pretty insignificant lie, but what do other parents who don't have chimneys tell their kids about how Santa gets in? -- Colin McWilliams
I was about five and I woke up real excited in the middle of the night and snuck out to "get some water" and saw my old man setting up a train set. "Where's Santa?" I asked. "Oh," my dad replied, "he dropped this off and asked me to set it up for him. He's pretty busy tonight." -- Chris

When I was a kid, I, like many of you, was told that Santa Clause exists. And every Christmas Eve I would get together with my relatives to celebrate the holiday. All the other kids in my extended family and I would pile into Grandma's big white Ford LTD and my Aunt Duffy would take us out to search for Santa. After half an hour of driving around, looking at people's beautifully decorated homes, we would return to my grandparent's house, where we celebrated Christmas. We saw a lot of lights and decorations, but we never found Santa Clause, and every year the adults would tell us that we had "just missed him." And after our unsuccessful search, Grandma's Christmas tree would have presents spilling-out from underneath it.
As I grew older, I became more suspicious. My cousin Todd and I, would ask ourselves, "How could there be a Santa Clause if we have never seen him, yet he always appears every time we're out searching for him?" Hmmm. So one year, my cousin and I hid outside in the freezing cold where we could clearly see inside the house. We hid in some bushes in the backyard and peered into the living room where the Christmas tree was. When all the other kids were out on their customary search for Santa, we watched the adults hastily take presents from the garage and put them under the tree. When the other kids came back from their failed search for Santa, my cousin and I snuck back into the house without being caught. Although my Aunt Duffy knew what we were up to, she never said anything to anyone. This is how I learned that the whole Santa story was a lie. -- Bill Galloway